Drouhin Clos de Mouches vineyard
Who We Are
Frankonia Fine Wines LLC, dba Uncorked, was created in 2003 to simply import a friend's wines from the Franken region in Germany. This proposed one-time shipment of unusual German varietals, without a Riesling in the bunch, has grown into so much more. We now have Uncorked, a thriving business who focuses its efforts on importing and distributing artisan wines, spirits, and brews from all over the world to all areas of Louisiana. The theme between many of our producers is that they are quality-minded, family-run operations who produce premium products using traditional methods. We aim to have our products over-deliver for their price points, making them great values. Not only do we discover & import our own producers, but we also work with several highly-regarded importers representing many different countries & regions throughout the world. We also strive to offer excellent customer-service throughout all stages of our dealings with our customers. Going forward, our success will be measured by the quality of our brands, our service and our response to our customer's needs.
Uncorked has certified membership with the following:
WBENC, National Women's Business Enterprise Certification
SBED, Small and Emerging Business Development Program by the State of Louisiana
Hudson Initiative, Small Entrepreneurship Certification Program by the State of Louisiana
We are also proud members of the following civic & business organizations:
LRA, Louisiana Restaurant Association
New Orleans Chamber of Commerce
The Rotary Club of New Orleans Riverbend
Goldman Sachs 10,000 Small Businesses Alumni (Cohort 6)
The University of New Orleans L.I.F.E. Opportunities Internship Partner
---

Patsy Dubret, Founder
Patsy founded Frankonia Fine Wines LLC in 2003 to help a German friend sell his artisan wine. After a year of running a one man show, she decided to expand the business by adding two sales reps, a delivery driver, wines from around the world and a dba, Uncorked was born. She has now turned the daily grind over to David and Nick but remains very active in all aspects of the company. Mostly giving advice whenever and however she wants! She is extremely proud of the quality of the portfolio and the talent and diversity of the people that work with Uncorked. "All of them very special to me, like family, and they are my favorite part of this company."
Nick Selby, Partner & President
Nick grew up in New Orleans and attended LSU and Tulane University. After working in all levels of the restaurant industry, he transitioned to Uncorked. Joining Patsy in the beginning, he has worked in every aspect of the business. Now, as an operating partner, Nick manages the sales team & keeps up relationships with suppliers.
David Kenney, Partner & Vice-President
After attending UNO's Hotel, Restaurant, and Tourism program, David worked in the restaurant industry, as the Assistant GM and wine buyer at Susan Spicer's former restaurant, Cobalt, in New Orleans.  That experience lead to a job working in sales on the retail side of the wine business, at Martin Wine Cellar.  He joined Uncorked in 2005, and currently serves as Partner and VP.  Working alongside Nick, David handles many of the supplier-related issues for Uncorked.  David had the good fortune to live in Switzerland and travel through many of the wine regions of Europe.
Jessica Coburn, Sales Manager & Marketing Coordinator
Jessica is a native Texan, and she got her start in the wine industry in Shreveport at Wine Country Bistro & Bottle Shop working in their retail shops right out of college. She spent time working at the Wine Institute of New Orleans before coming on board with Uncorked in the Spring of 2016 to be the liaison between the sales reps and office staff. She now manages the sales team and also oversees supplier market visits, event planning, and social media.
Joe Briand, Sales/Fine Wine Specialist
Joe's hospitality and wine career started as a member of the opening team at Herbsaint Restaurant in 2000 and continued over 14 years with the group as a manager and wine buyer. Most recently, Joe was the Wine Director at the Bywater institution, Bacchanal. During his time there he was part of the team that was a three-time Finalist for the James Beard Foundation's "Outstanding Wine Program." Joe loves Riesling, talking about how much cheaper Burgundy was back in the day and adding to his world class collection of wine T-Shirts. He joined Uncorked in 2022 as Fine Wine Specialist covering the entire state.
Lane Primeaux, Sales/Spirits Specialist
A native of the region of Acadiana, Lane grew up in New Iberia, Louisiana, then moved to Sydney, Australia, to study his passion for music. When he moved back he landed in Baton Rouge where he started a job as a server. He grew in love with cocktails, food, and wine at Bin 77 where he eventually became bar manager. After a few years he moved to Los Angeles and bartended only to move back to Louisiana after a year to help open a restaurant. After that he became Beverage Director for Soji and consulted for the recently opened- BLDG 5. Lane came on board with Uncorked in January 2021 as our go-to spirits expert covering the entire state.
Erik Christensen, Sales
Although Erik was born in Australia, he grew up in the heart of the French Quarter. While attending the University of New Orleans, Erik worked in some of the city's finest restaurants. Over the years he developed a strong passion and appreciation for wine from all regions of the world that led him into the wholesale side of the industry. After several years, Erik joined the supplier side of the wine business. He joined Uncorked in 2009 and is responsible for key accounts on the North Shore & in the New Orleans metro area. Erik has 12 years of experience in the wine industry and is a member of the Court of Master Sommeliers, and the Certified Specialist of Wine – Society of Wine Educators.
Josh Dunham, Sales
Josh was born and raised on the North Shore, and began his career in the restaurant industry there.  In 2006, Josh's interest in wine led him to The Wine Market where he gained experience in both retail and bar settings. Josh took over as the manager of The Wine Market at the start of 2010 and never looked back. In 2011, Josh was invited to Oregon Pinot Camp where he learned the history of Willamette Valley and experienced Pinot Noir at all levels. The opportunity to join Uncorked was a perfect fit for Josh, as he looks to turn his passion of wine and 7+ years of retail and restaurant experience into a career in wine at the wholesale level. Josh calls on accounts in Metairie & the North Shore.
Randy Hanning, Sales
Randy, a native New Orleanian, graduated with a Fine Arts/Sculpture degree from Louisiana State University. During his 19 years as a waiter in established restaurants with fine wine programs such as Juban's, Commander's Palace, and Clancy's, Randy found a passion for wine. He holds introductory accreditation from both the Court of Master Sommeliers and WSET. Upon joining Uncorked in the Spring of 2015, he began calling on accounts on both East and West banks of New Orleans, Boutte, Houma, and Thibodeaux.
Lauren Attaway, Sales
Lauren grew up in West Monroe, Louisiana and moved to Baton Rouge to attend LSU. While attending college she worked in restaurants and quickly grew a passion for the food and beverage industry. She worked at Louisiana Lagniappe and Bin 77 Bistro and Wine Bar. She started at entry level positions and worked her way up from hostess, to server, then Wine Director and eventually General Manager. The extensive and ever changing wine program at Bin 77 is where she really grew her knowledge and passion for wine. With a wine list of over 65 wines by the glass that would change every 6 months, she developed her palate and learned all that she could. Lauren is an asset to Uncorked working the Baton Rouge and the Southwest Louisiana market.
Amy Heinricher, Sales
Amy was born and raised in Houston, Texas and attended the University of Mississippi. While avoiding growing up, she moved to Napa Valley to attend the Culinary Institute of America's wine certification program, worked at Frog's Leaps Winery and became a Court of Master Sommeliers Certified Sommelier. Following this, she relocated to New Orleans to work in wine and beverage programs with Dickie Brennan and Co. at Tableau and the Besh Restaurant Group at Restaurant August, Borgne and The Pontchartrain Hotel. We're happy to have Amy now calling on retail and restaurant accounts in the New Orleans area.
Brian Gibbons, Sales
Brian Gibbons, was born a N'Awlins boy during the great "Boomer" era.  He has to say that it was a great time in life growing up in Uptown, New Orleans.  He was able to  experience all the culture, spice, and social grandiose that New Orleans has to offer!  Having been a journeyman for decades in acting, on and offshore in the oil industry, radio advertising,  and photography…. ultimately he agreed to experience the bar and restaurant life managing Lucy's Retired Surfer's Bar and Restaurant in the mid nineties.  Being ever endeavoring, he then decided to work for a small wine distributor and fell in love with the business!  He moved to St Francisville and opened The Hodgepodge Wine Shop and Deli.  It was then that he realized that a Professional Wino was the greatest people biz there is.  Now with over sixteen years in the wine industry, he is finally unleashed at Uncorked. Brian covers a lot of ground calling on Shreveport, Monroe, Alexandria, outer Baton Rouge and everywhere in between.
Katy Sorkow, Sales
Katy was born and raised in Lake Charles, LA and began her career in the hotel industry. After taking a big leap, she completely changed her path and worked in retail managing The Wine Store. After several years there she discovered her ever growing passion for wine sales. She joined the Uncorked team in September of 2019. Katy covers the Southwest region of the state, calling on Lake Charles, Lafayette, and the surrounding areas. She holds WSET level 2 certification.
Alexandra Minton, Sales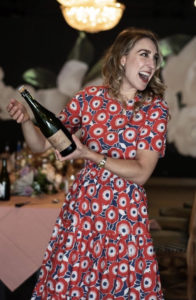 Alexandra began her restaurant career at the tender age of three while growing up in her parents' Po-Boy shop in Ocean Springs, Mississippi. After a slight departure to study orchestral percussion at the University of Southern Mississippi, she found her way back to the industry and fell in love with the world of wine while working for the New South Restaurant Group in Hattiesburg, Mississippi. She stayed with the NSRG for several years while performing in local orchestras and grant writing for the USM Symphony, all the while feeling a stronger pull towards hospitality. Eventually trading in her drum sticks for decanters, she moved to New York to pursue wine full time and became a certified sommelier by the Court of Master Sommeliers. After making her way back to the South, Alex was in charge of beverage programs for several New Orleans establishments including Stella, Square Root, and the Pontchartrain Hotel. She was recently named a 40 Under 40 Tastemaker by Wine Enthusiast Magazine, and in April 2021, joined the sales team at Uncorked, where she is happy to be able serve the New Orleans market and cheer on the Saints.
Courtney Sutton, Purchasing Coordinator
Courtney grew up in New Orleans and went to Sewanee: The University of the South. Since graduating in 2004 she has worked in offices of all three tiers of the wine business. She worked for a wine distributor in Charleston, SC, a winery & vineyard management company in the Willamette Valley, and a restaurant in the French Quarter. Courtney, our Office Manager since 2011, is now our Purchasing Coordinator. She's happy to be focusing on her two favorite things, P.O.'s & Logistics!
Arielle LeBlanc Smith, Office Manager
With a father in the wine industry, it's no surprise this is the career path Arielle chose for herself. Summers and school holidays were spent riding along with her dad to call on restaurants in the French Quarter, and family vacations included visiting wineries in California. She began working in the wholesale wine industry in 2003 while attending Southeastern Louisiana University, where she later graduated in Business Management. Upon graduating, she continued working at Avenue Wines, both managing their office as well as developing on-premise business on the Northshore. In 2014 she took a Sales Representative role at Artisan Fine Wines, where she was later promoted to Brand Development Manager and managed many of their domestic winery partner portfolios. Arielle joined the team at Uncorked in June of 2021 as the Office Manager.
Juan Pardo, Delivery Manager


Juan joined Uncorked in 2006 as our first full-time delivery driver. He now manages our drivers, and is responsible for our delivery operations. You may also catch him on stage performing as War Chief Juan!
Rudy Guthrie, Warehouse Manager
Herbert Brumfield, Prentiss Cyres, Ryan Morrow, and Severn 'Mickey' Jackson in Delivery 
Uncorked

3140 Eads Street
New Orleans LA 70122

Office (504) 828-5708
Fax (504) 828-5581